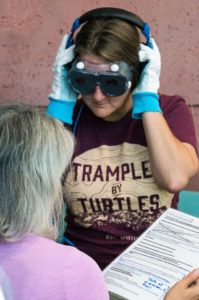 The Dementia Experience promotes greater compassion for people living with Alzheimer's disease and dementia. Participants complete a series of tasks while wearing simple alterations to their senses, like vision-limiting goggles. The experience mimics the frustrations caused by dementia. Participants are invited to talk through and process their experience with Windhorse Staff and other participants afterwards.  Duration is 45 minutes.
We offer this event free and open to the public 3-4 times/year.  Check back here for a sign-up when we have a public event open. The next upcoming Dementia Experience is TBD. To sign up and reserve a space, please click the following link…
If you are interested in bringing The Dementia Experience to your organization or facility please send your request to info@nullwindhorsecare.com.
Thank you for your interest!